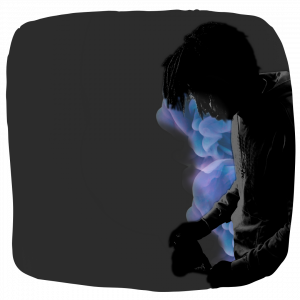 Tyriq heard about a house party on the estate. His foster carer, Andrea, wasn't keen for him to go but agreed. She said be back by midnight. Tyriq decided to pass through with a new boy who moved in next door; 17 year old Josh.
They reached the party and went into the kitchen
to pour a drink. The drill music was playing loudly and the air was cloudy from all the weed being smoked.
"My kinda vibe," thought Tyriq.
Josh started chatting to girls. After a couple of drinks, Tyriq's confidence grew and he started talking to them too.
He continued to drink and smoke for the next hour and didn't notice when Josh was gone.
Around 11.30 pm, Tyriq started to look around the house. He found Josh in a bedroom with two other boys and a girl, Ella, he knew of from the estate.
"Get in here Ty" Josh called him in. The boys encouraged Ella to give Tyriq oral sex, which she did. Tyriq was pretty wavy, but wasn't too keen to do this.
"I don't even really know this girl," Tyriq thought; the other boys were cheering him on. Josh laughed and joked, patting Tyriqon the back. Josh also filmed it on his phone.
Ella asked Tyriq for some cannabis and money for a taxi home, which he gave her.
They walked downstairs, Josh put his arm around Tyriq and tapped him with his phone. "Bro, your first line up!! Congrats!" Tyriq wasn't sure what to say to Josh.
Josh continued "You know Ella is 13 years old right?! I heard her big brother is a MAD-MAN! You don't want him knowing about this. Go grab me a drink and we can talk about what I do with this video."
What options does Tariq have?
OPTION 1


Talk to Josh, tell him to allow it.


"Do what you want with that video still. I was just on a good vibe at the party. Everyone was doing it, and more. I ain't afraid of her brother, I brought you here to meet people from the ends." 
OPTION 2

Leave the party, head home and the next morning talk to Andrea/football coach. 



"Mad this girl is 13 still. I didn't even really want to do it. Is she okay? What will happen to me if her brother finds out? What if the police find out? Maybe I should talk to someone about this."
Sexual Exploitation - Useful Links
CEOP – Exploited – 18 minutes
'pause points' in the clip to discuss
Click link here Bedfordshire against CSE
Click link here for NSPCC Child Sexual Exploitation