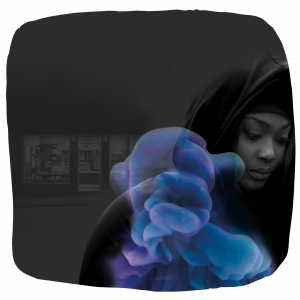 One night Jasmine was out, she went into the local take away for some dinner. Inside, there were a group of older boys sat down who she recognised from the estate. She started talk to them and they paid for her food. "Nice, that's pretty decent" she thought.
Jasmine gave her Snapchat username to one of the boys. She chatted to them for about an hour before going home. The next morning, Jasmine got a Snapchat from one of the boys.
BIG ££££ – two hours work – DM Me
Jasmine needed new clothes, trainers and phone credit. She started to save posts on Instagram of things she wanted.
asmine mentioned the Snapchat message to Tyriq and Hasan, they shrugged it off.
"I could really do with some money" she thought. "Those trainers, wow, but they are £395, no way mum and dad can afford those."
Later that day, Jasmine went back to the take away. The group welcomed her back into the shop "Ayyy Jasmine .. Here she is" they all joked. They ate food together. Then they all smoked weed outside, which she didn't normally do.
One of the boys gave Jasmine some money for phone data. "So what if they are a bit older than me, they are more fun than Hasan and Tyriq; plus free food and phone data" Jasmine thought.
Jasmine showed the boys some of the posts she had saved; One said "I can help you get those trainers you know… and that busted iphone screen fixed!" The group laughed and Jasmine was embarrassed.
The boys told Jasmine that they would give her £500 for taking a ruck-sack on the train to Northampton. She would have to give it to one of their boys when she got there ,"but don't you dare look in it Jas; trust me, I'll know if you have" they threatened.
What options does Jasmine have?
OPTION 1
Take the bag to Northampton, do the drop off, come back to Luton and get paid.
"Light work. Everyone is going country nowadays, then can order bare stuff online"
OPTION 2

Say no to going country; but what would the boys think?

"What will happen if I don't do it? Maybe I should talk to my brother about this?"






Criminal Exploitation - Useful Links
PWITS – 13 minutes
Trapped – 9 minutes
County line running vs. positives (going to the gym)
Click link here for Alfi's story
Click link here for Ida's story